Bournemouth beach attracts 120,000 visitors in heatwave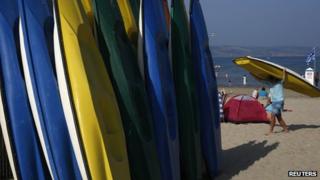 More than 40,000 ice creams were sold on Bournemouth beach at the weekend, the town's tourism board says.
An estimated 120,000 people visited the town's beaches as temperatures reached their hottest for the year.
Met Office figures revealed the warmest place in the country on Sunday was nearby Hurn with a recorded a temperature of 31C.
Forecasters are predicting the hot weather will continue through the rest of the week.