£200,000 appeal for new Swanage lifeboat station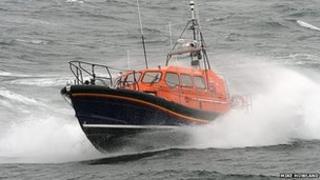 A £200,000 fundraising drive for a new lifeboat station in Swanage to house the RNLI's latest and most advanced class of lifeboat has been launched.
The station will be rebuilt on the site of the 138-year-old existing boathouse in Peveril Point Road.
It is hoped the station will be ready in time for the arrival of the new Shannon class lifeboat in 2015.
An appeal to help raise the cash was launched at Swanage lifeboat station.
Richard Weeks, RNLI divisional operations manager, said: "Unfortunately the dimensions of the current lifeboat station mean it will not be fit for purpose when the new Shannon class lifeboat arrives."
Work on the station is due to start next year, subject to planning permission.
The new centre will also house a changing and shower area, crew training room, mechanics' workshop, office space, and room for the station's D-class inshore lifeboat.
The Shannon class lifeboat will replace Swanage RNLI's all-weather Mersey class lifeboat Robert Charles Brown which is coming to the end of its operational life after being in service for 21 years.
Neil Hardy, Swanage RNLI's volunteer lifeboat operations manager, said: "Funding for the Shannon has been met, with two legacies providing the majority of the £1.5 million required.
"We just need to help raise the funds needed for the new lifeboat station in which she will be housed, and this project begins in earnest right now as we launch this appeal."
Shannon craft are the first modern RNLI all-weather lifeboats to operate with water jets as opposed to propellers and are the smallest and lightest in the RNLI's fleet.