Bournemouth £3.5m train painting depot opens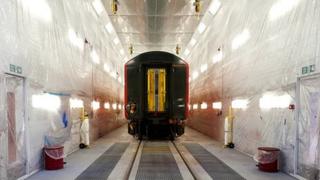 A £3.5m facility in which trains will be painted and maintained has opened in Bournemouth.
The South West Trains-Network Rail Alliance has unveiled the new paint depot in Westbourne, where it has created 38 jobs.
Fleet director Christian Roth said: "All of our new staff are from the local community."
The facility will allow four-car trains to be painted, renovated and tested under one roof.
Mr Roth added: "Thanks to this new facility in Bournemouth, we no longer have to send our trains elsewhere for repainting.
"We are now able to maintain and paint all our fleets in-house for the first time ever."
This would help ensure their trains spent more time on the tracks and less in the depot, he added.