Bournemouth's 10-mile traffic jam angers drivers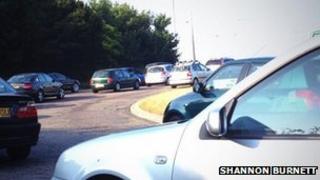 Holidaymakers have complained about 10-mile (16km) tailbacks and "horrendous" traffic jams after they were stuck for several hours in Bournemouth.
Heavy traffic meant vehicles were brought to a standstill on the A338.
A crash near Ashley Heath roundabout, which left two cars blocking the northbound carriageway, added to congestion on Sunday afternoon.
Dorset County Council said it would look at possible ways to "alleviate the pressure on the network".
Motorists, who had travelled to the town to enjoy the sunny weather, took to social media with some saying they did not reach home until the early hours of Monday morning.
@GaryDocherty92 tweeted: "Left Bournemouth at 8pm, walk through my door [Ascot, Berkshire] at 2am! Traffic is an understatement."
Another user, @Amiesprey05, said: "Conclusion off [sic] the day ... Never go to Bournemouth on a nice day ... Spent my whole day in traffic..."
Stef Jackson, from Newbury, Berkshire, had to delay his journey home twice due to the queues which he described as "horrendous" and "unbelievable".
At one stage, police reported 10-mile queues from County Gates roundabout to Ashley Heath roundabout.
'Volume of traffic'
The crash, which saw one car overturn and resulted in minor injuries, happened at about 15:15 BST.
Although it led to the closure of the road at both Blackwater Bridge and Cooper Dean roundabout, the cars were cleared from the carriageway by about 16:30.
Jon Weaver, from Bournemouth Tourism, said several other minor collisions and breakdowns had also "magnified" the traffic problems.
"Bournemouth enjoyed some of the hottest weather in the UK this weekend, and being a popular seaside resort hundreds of thousands flocked to the town to take advantage of our seven miles of golden sands," he said.
"Like travelling to many other seaside destinations in sunny weather, the main route into Bournemouth does get congested at peak times during the summer months."
Matthew Williams, traffic control manager for Dorset County Council, which is responsible for the A338, said: "The volume of traffic seems to have caused the problem with a knock-on effect from the northbound A31.
"We will be talking with partners to see if there is anything that can be done to alleviate the pressure on the network.
"We advise drivers to plan their journeys, to car share or change the time that they are on the road.
"Be prepared to be delayed at peak times and make sure you have plenty of water with you."