Dorset couple prosecuted for free-range eggs fraud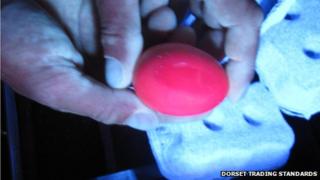 A Dorset couple have been prosecuted and fined for passing off intensively farmed eggs as free-range produce.
Stephen and Anne Hobbs, from Three Legged Cross, sold eggs in plain boxes while chickens visibly roamed free in their garden.
But inquiries by Dorset Trading Standards revealed Mr Hobbs had bought 12,000 eggs from a large supplier.
The pair, aged 65 and 66, pleaded guilty to six offences following a hearing at Bournemouth Magistrates.
The couple, from West Moors Road, said they started supplementing supplies after their hens' egg production fell in September.
They were fined £300 each and ordered to pay a total of £1,178 costs.
Offences under the General Food Regulations Act 2004 included failing to identify the supplier of the eggs, failing to declare the eggs were not from their own flock, selling eggs with the producer's stamps removed and selling eggs in a misleading manner.