Dorset grandmother conned out of life savings in scam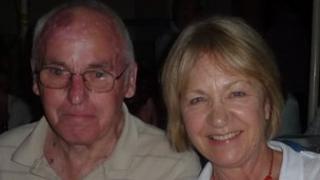 A grandmother has been tricked out of £68,000 savings by a conman who pretended to be from the fraud department at her bank.
Jenny Parkinson, from Dorset, was duped in a phone call from a man who said she could have been a victim of card fraud.
Mrs Parkinson was conned into making a phone call to what she thought was her bank's fraud department and moving her money to two "secure accounts".
Her bank Santander said it would never ask a customer to transfer funds.
Dorset Police issued a warning about the scam, saying it appeared the fraudsters may not hang up the phone but instead keep the line open, tricking the victim into believing they have connected to their bank.
Mrs Parkinson, 64, from Christchurch, said: "I can't quite believe that this could happen.
"I can't sleep. I've always trusted people. I'm pretty sure I thanked him because I thought he had helped me.
"They really are evil."
She said she received a phone call on 15 June from a man claiming to be from Tesco Bank, who said her card could have been fraudulently used.
When questioned, she told the caller she also banked with Santander and he advised her to check her accounts by calling her bank.
Mrs Parkinson put the phone down but the caller did not hang up, so when she dialled the number for Santander, a different man was already on the other end of the line and claimed to be from the bank's fraud department.
The conman gave her two account numbers and sort codes and she transferred her savings online while he remained on the phone.
When she later told her husband, he contacted Tesco Bank, who confirmed they had not contacted Mrs Parkinson that day.
Checks with Santander revealed the money had been paid into Barclays bank accounts and withdrawn.
Mrs Parkinson said she reported the scam to police and has been told it is being dealt with by a team in London but she has not had any contact from an investigating officer or victim support.
Dorset Police has also informed Action Fraud - a national fraud and internet crime reporting centre.
Action Fraud does not investigate cases, instead warning others against scams and reporting cases to the City of London Police's National Fraud Intelligence Bureau (NFIB).
The NFIB will then assess whether to investigate the case or refer it back to Dorset Police to be dealt with locally.
Steve Proffitt, head of Action Fraud, said: "If you receive a phone call that seems suspicious, end the call immediately and don't give out any information.
"Instead call your bank from another phone or go into a branch."
A spokesman said Santander cannot reveal details of individual cases or online banking protection and fraud systems. He added: "We will never ask a customer to transfer funds or disclose their password.
"Santander takes fraud very seriously and reviews each case on an individual basis."
Mrs Parkinson has lodged a complaint with Santander but does not yet know if she will get her money back.