Bournemouth St Peter's Catholic School in £8m expansion plan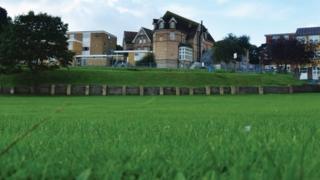 Plans have been unveiled for a £8m expansion at a school in Bournemouth.
A 420-pupil primary will be built at St Peter's Catholic School, under proposals put forward by the borough council.
Some secondary students will also move from St Peter's Iford site to a new teaching block at Southbourne.
Nicola Greene, cabinet member for education, said the plans had been prompted by a "dramatic increase in births over the last five years".
'Pupil progress'
She added: "[It] has put pressure on the number of primary school places needed in Bournemouth.
"We have been working very closely with St Peter's School to carry out a feasibility study and have agreed a plan that will not only allow improvement and potential expansion of secondary facilities but also allows for the school to provide new primary school places helping to meet demand."
Head teacher David Todd said: "Staff are working hard to develop the beginnings of a cohesive curriculum that will allow for rapid pupil progress throughout the school.
"We are also working closely with our architect to create the right sort of accommodation to deliver the curriculum."
The proposals will be considered in a cabinet meeting on 26 June.
If approved, construction work could start in the autumn, with the new buildings opening in September 2014.
St Peter's currently caters for pupils aged 11 to 18.