'Hated' Bournemouth Imax site transformation begins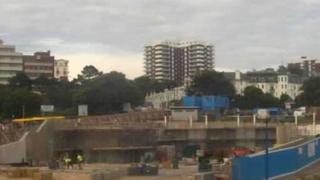 Work has begun to transform the site of a demolished seafront cinema that was once voted one of the UK's most hated buildings.
The final wall of the four-storey Imax building, in Bournemouth, which was criticised for blocking out sea views, was demolished in April.
An outdoor entertainment space is now being created on the waterfront site.
Bournemouth Symphony Orchestra is due to host the first performances in the new venue on 29 June.
Bournemouth Borough Council said a ballot in April saw more than 8,500 applications for the 3,000 tickets available for the two free concerts.
Work on the entertainment space will continue until late July and the local authority said a full summer events programme would be announced shortly.
Leader of the council John Beesley said further work would be carried out on Pier Approach over the next two years, including making the flyover next to the site "less imposing" with landscaping and planting.
He added the whole project, including the demolition of the cinema and the creation of the new space, was still within its £8.5m budget.
The Imax was voted one of the UK's most hated buildings in 2005 on the Channel 4 programme Demolition.