Landslip hit Dorset coast 'open for business'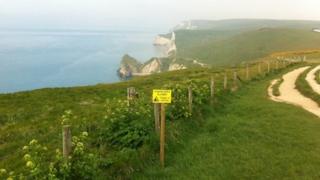 Following recent landslips along the Dorset coast the county council insists it remains "open for business".
Four sections of South West Coast Path, including above St Oswald's Bay, remain closed in the county following landslips caused by heavy rain.
Dorset County Council said it could not comment on whether visitor numbers to the coast would be affected this summer.
It added the closures had affected "only a tiny proportion" of the coast.
About 80 miles (130km) of the 630-mile path, from Somerset to Dorset, is in Dorset.
'Avoid hazards'
South West Coast Path Association described the path as "hugely important" to the economy of the south west of England and said it generated about £350m each year.
A spokesperson said although the association had received calls from visitors concerning landslips along the Dorset coast earlier in the year, they were no longer having an impact on visitors because people were aware of the temporary diversions.
John Hayes, senior ranger for Dorset County Council's countryside coastal ranger team, said: "Landslips have affected only a tiny proportion of the Dorset coast and even where the coast path has had to be closed, diversions are in place that normally only add a little extra time to people's walks.
"Dorset's beautiful coast is open for business - we would just urge people to use their common sense and avoid potential hazards, even if they are familiar with the area."
A 20m (65ft) section of the path above St Oswald's Bay, east of Durdle Door, which Portland Coastguard described as "massive", fell away in April.
The council said work was planned to permanently divert the path inland and added "relevant permissions" were currently being sought.
Survey work into cliff movement on two sections of path between Blacknor and Priory Corner on Portland, which closed in January, has also been carried out but the authority said a decision still needed to be finalised on whether to reopen the path.
It added provisional funding bids for repairs here and on the path between Kimmeridge Bay and Houn's Tout, which also closed in January, had been submitted to Natural England.
The mile-long path between Burton Freshwater and Hive Beach, where 22-year-old Charlotte Blackman, of Heanor, Derbyshire, died in a landslide in July, has now reopened with a 1,300ft (400m) section permanently diverted inland.