Bournemouth's Winter Gardens site revamp rejected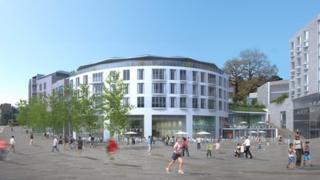 Plans for the redevelopment of Bournemouth's former Winter Gardens have been rejected by the council.
Councillors had deferred a decision on the plans last month amid concerns about the height of the proposed hotel on Cranborne Road.
Developers Planning Solutions Partnership had pledged to lower the hotel frontage.
Revised plans, which also include flats, restaurants and a cinema, were rejected by the council planning board.
The firm's original £150m plans were rejected last year. The new version had been recommended for approval.
The Winter Gardens concert hall closed in 2002 and was demolished in 2006.
Councillor Beryl Baxter who was among those voting against, said it would have affected the "quality of life" of Cranborne Road residents.
"The design of the structure didn't fit with the brief of what that area needs," she said.