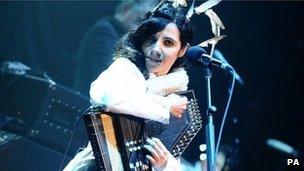 Award-winning musician PJ Harvey is among those in Dorset to be recognised in the Queen's Birthday Honours list.
The 43-year-old singer from Dorchester, the only artist to have won the Mercury Prize twice, has been appointed an MBE.
Foster carers Peter and Jean Dorey from Gillingham are also appointed MBEs for services to children.
The couple, aged 68 and 66, have fostered 65 children over the past 40 years.
Ten Dorset residents receive British Empire Medals (BEM), including Susan Blake for services to rambling and the community of Dorchester.
The 74-year-old has been walks leader of the Casterbridge Ramblers since 1987 and is a founder member of the Dorset Jubilee Trail, from Forde Abbey to Bokerley Dyke, and Dorchester Strollers.
"It keeps me out of mischief but I also enjoying what I do, and I hope it also gives other people a lot of pleasure too," she said.