Wild asparagus pollination plan results in Dorset colony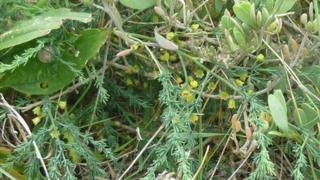 A seven-year bid by conservationists to save wild asparagus has resulted in a new colony being established.
Parts of a male wild asparagus plant were brought from Cornwall in 2006 to artificially pollinate what was thought to be the last female plant in Dorset.
The team behind the plan has found most seedlings, planted at secret locations in Portland, have survived.
Botanist Tim Rich said the relationship between the Cornish and Dorset asparagus had been "very fruitful".
The Dorset asparagus, thought to be up to 70 years old, was hand-pollinated by male flowering stems brought from Cornwall.
The plan, instigated by Natural England, Dorset Wildlife Trust and the National Trust, involved collecting the resulting berries and growing on the seedlings.
'Very special'
Sixty seedlings were planted at two secret locations on Portland. An inspection has shown all but nine have survived.
The appearance of 11 flowering plants - seven males and four females - also raises the prospect that seedlings could reproduce naturally.
Mr Rich said: "It's a very special little plant and incredibly drought-tolerant."
He said it was important to preserve the wild variety as work could be done to breed its drought resistance into cultivated garden asparagus.
Loss of habitat and the spread of invasive species are thought to have caused the decline in numbers of the once plentiful wild variety.
Classed as an "endangered" species by the International Union for Conservation of Nature (IUCN), it only grows in a handful of British counties, including Glamorgan, Pembrokeshire, Cornwall and Dorset.
Wild asparagus grows on cliffs and sand dunes and has a more bitter taste than the cultivated variety.