Poole Hospital trust faces Monitor inquiry into its finances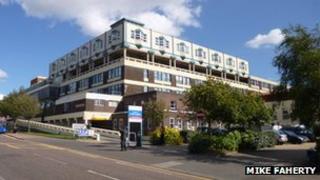 A Dorset hospital is being formally investigated amid concerns over its finances.
Health sector regulator Monitor will look into "significant financial pressure" predicted by Poole Hospital NHS Foundation Trust.
Trust chief executive Chris Bown said he welcomed a discussion on the topic.
The hospital trust said it could face a deficit if a planned merger with the Royal Bournemouth and Christchurch trust failed to go ahead.
'No surprise'
The proposed merger is the subject of a separate investigation after the Office of Fair Trading referred the deal to the Competition Commission over concerns about allowing two competing trusts to combine.
On the issue of finances, Monitor regional director Paul Streat said: "Patients expect to see their services run well and by investigating at this early stage we can make sure that any issues are addressed quickly and effectively."
A Poole Hospital spokeswoman said the investigation came as no surprise.
"Our board of directors has long maintained that without the merger, the trust faces significant financial pressure," she said.
She added the hospital was "an extremely efficiently run trust" with costs 7% lower than the national average.