Guitarists wanted for record bid attempt in Lyme Regis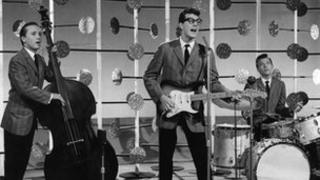 Guitarists are being invited to join an attempt to set a new record for Britain's biggest band playing one song altogether at the same time.
Musicians of all ages and abilities can come to the Guitars on the Beach event in Lyme Regis, Dorset, on 7 September.
The Stranglers' Hugh Cornwell and the lead guitarist for Paul McCartney and John Mayer, Robbie McIntosh, are among those who have signed up.
Organisers want to see at least 2,000 people playing Buddy Holly's Rave On.
September 7th would have been Buddy Holly's 77th birthday.
Organiser Geoff Baker, who was Paul McCartney's PR chief for 15 years, dreamt up the event after discovering there was no existing record for Britain's biggest band.
Beatle boss
He said: "I just reckoned that there are thousands of people, mainly blokes, who have always dreamt of being in a band just the once, and I figured, well, then why not be in Britain's biggest.
"The idea has touched a pulse and we've got guitarists coming from all over England - London, Bristol, Manchester, you name it - who want to be able to say that they once played in Britain's biggest ever band."
Mr Baker's former Beatle boss owns the publishing rights to the Buddy Holly catalogue and traditionally organises an event to mark his birthday each year.
"Paul's on a world tour, so I was surprised to get a letter from him saying he's checking to see if he can fit in the Guitars On The Beach gig," Mr Baker added.
Anyone who wants to take part can register their interest on the Guitars on the Beach website.