Weymouth's Rosemary Locock fulfils daughter's last wish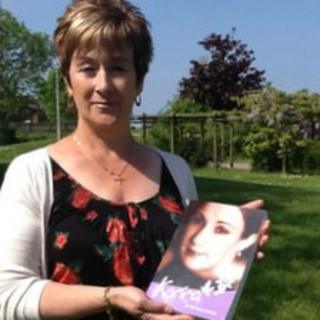 When Rosemary Locock was asked by her terminally-ill daughter Karina to complete three wishes, she vowed to fulfil them.
She has since run three marathons, held countless fundraisers and even managed to get a red rose named after Karina, who died 10 years ago.
A decade after the 17-year-old lost her battle with rare bone cancer osteosarcoma, Mrs Locock has fulfilled the last of the wishes.
She has self-published a book, called "Karina", about her daughter's journey.
'Very traumatic'
Mrs Locock, 54, from Upwey, Weymouth, Dorset, said: "I knew I had to do it at some stage but I couldn't do anything for five years.
"It was very traumatic. There were a lot of tears shed, there were lots of passages written that got wiped out and started again. It was emotional."
Karina endured chemotherapy, radiotherapy and a 17-hour operation to remove a tumour the size of an orange from the right side of her face after being diagnosed with the rare cancer, in September 2001.
The teenager started writing about her experiences after spotting books that had been written for siblings of patients with cancer, at the Piam Brown Unit at Southampton General Hospital.
Mrs Locock said: "She said she wanted to write a book and get it published and put in hospitals as an inspiration others."
After months of treatment, tests in January 2003 showed no signs the cancer had returned.
But only a month later, Karina underwent more tests after Mrs Locock spotted a lump, again on the right side of her face.
Mrs Locock said: "It had come back with a vengeance and had grown really quickly. They said she only had months to live.
"Karina being Karina, she spent every opportunity out with her friends,
"From my point of view as a mother I wanted her to have the best possible life she could.
"We put everything into the last few months."
The family went on a trip to Thailand, Karina travelled on the River Thames with the Metropolitan Police and the teenager went on a trip to Disneyland Paris.
Before her death in June 2003, Karina explained her last wishes, which included asking her mother to run the London marathon and put red roses on her grave.
Mrs Locock has also raised funds for a red Floribunda rose to be named Karina Eloise.
And, she has spent five years completing the book, as well as raising funds to self-publish it.
She said: "Having these wishes to fulfil for Karina have been a real anchor in these last 10 years because I've had something to do to keep me going.
"I'm really proud to have completed the three wishes.
"I hope she's proud."
Funds raised from the book will be donated to Kingfisher ward at Dorset County Hospital in Dorchester, Dorset, and the Piam Brown Unit at Southampton General Hospital in Hampshire where Karina was cared for.