Weymouth harbour wall: Costs of repair increase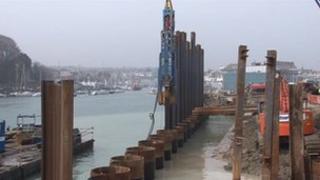 The costs of repairing a collapsing harbour wall in Dorset have increased.
Weymouth and Portland Borough Council has approved an additional £500k to the initial £3.92m budget for work on Weymouth harbour.
Deep cracks beneath the waterline led to parts of the 80-year-old Berth Three collapsing in 2012.
A council report said "significant difficulties" had been encountered during the work but it was still due to be completed by mid-July.
The council report said the additional funding was needed because of "unforeseeable ground conditions" and a previously unknown concrete structure discovered on the seabed.
During the work which began in December, 15-metre long steel tubes have been hammered into the seabed to form foundations for the harbour wall.
Condor Ferries' fast ferry services to France and the Channel Islands were transferred to Poole in February 2012.
The council said the repair work is due to finish as scheduled, in time for Condor Ferries to resume sailings from Weymouth on 17 July.