Brian May speaks at Dorset badger cull meeting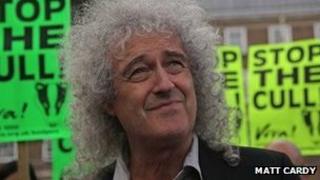 Former Queen guitarist and vice-president of the RSPCA Brian May is to speak at a public meeting in Dorset about the forthcoming badger cull.
The controlled shooting of badgers, to control the spread of bovine TB, is expected to begin in parts of Gloucestershire and Somerset in June.
Dorset is a reserve pilot area, meaning a cull could take place there in the event of problems in the other areas.
The RSPCA said the meeting aimed to mobilise anti-cull campaign support.
Other speakers expected at the event, at the Corn Exchange in Dorchester, include RSPCA chief executive Gavin Grant, Humane Society International managing director Mark Jones and Steve Jones, a retired dairy farmer and leader of the "Not in this farmer's name" campaign.
Mr Grant said: "It seems more than likely that Dorset could be the next backdrop for this senseless slaughter, so it's important that we do all we can to help the people of the area prepare for this.
"We urge anyone who agrees that killing badgers is not the answer to bovine TB in cattle to join us at this meeting.
According to Defra, 34,897 cattle were compulsorily slaughtered between January and November 2012 because of TB, compared with 30,979 from January to November 2011.
Farming minister David Heath said: "The science is clear that culling will help to reduce bovine TB as one part of our overall approach to eradicating this disease."
A petition, launched by Dr May, urging Defra to halt the cull, has so far attracted more than 223,000 signatures.