Dorset coastal path rescue after girl, 12, falls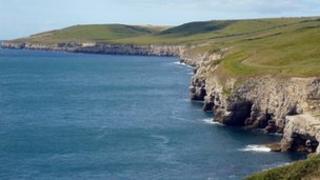 A 12-year-old girl has fallen off a coastal path in Dorset.
The girl, believed to be on a school trip, fell down a long slope close to Dancing Ledge, near Swanage, at about 19:40 BST on Monday.
She suffered head, hip and wrist injuries including a gash to her forehead in the fall, which happened east of St Albans Head.
Coastguard officers airlifted her to Dorset County Hospital in Dorchester for treatment.