Boscombe surf reef director Nick Behunin 'cannot be found'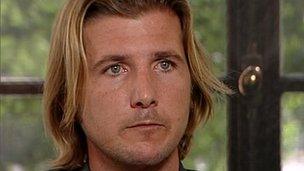 Liquidators for the New Zealand-based company which built Europe's only artificial surf reef are yet to locate its director.
ASR Limited, which built Boscombe surf reef in Dorset, was placed into liquidation in September.
Nick Behunin's company oversaw construction of the £3.2m reef which has been out of action since 2011.
Bournemouth Borough Council said it registered a claim to be a creditor with liquidators in February.
The council is pursuing an insurance claim for damages after two of the reef's sand-filled bags were struck by a boat propeller in May 2011.
Liquidators Pricewaterhouse Coopers' six monthly report, released through Companies House in New Zealand, revealed attempts to contact ASR's majority shareholder Sealutions LLC have also been unsuccessful.
Since being placed in liquidation, NZ $7,447 (£4,128) has been raised from the sale of the company's remaining assets consisting of two cars, a trailer and various office equipment.
After liquidators' fees and taxes, ASR has NZ $28,127 (£15,591) in cash left in the bank.
Dan Jenkins, owner of Jenkins Marine based in Poole, has registered a £34,000 claim to be a creditor, but has yet to hear anything.
His company supplied the workboat used in the original offshore construction.
He said: "I'm shocked and surprised that they haven't been able to trace Nick Behunin. From my knowledge, he lives in the USA.
"It's a real shame. The longer the reef sits idle, the more it will deteriorate.
"There's a host of local contractors out there who were involved in the original build and could easily undertake the repairs needed."
The reef, made of 55 giant sand-filled bags 740ft (225m) out at sea, opened in November 2009 after lengthy delays and running over budget.
The BBC has also been unsuccessful in its attempts to contact Mr Behunin, who last spoke on camera about the reef in 2010.
Related Internet Links
The BBC is not responsible for the content of external sites.