Dorset knife crime charity launched by victim's mother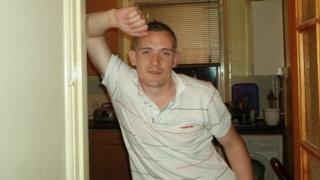 A woman whose son was stabbed to death two years ago has launched a charity aiming to raise awareness of knife crime in Dorset.
Jane Ormerod from Bournemouth set up Turn Your Back in memory of her son Nicholas, who died aged 29 after he was knifed in Boscombe in April 2011.
She said: "It became a worry that no-one in Dorset was raising awareness of the effects that knives have."
Bournemouth FC hosted the launch as Nicholas had been a lifelong supporter.
The charity is supported by Dorset's new Police and Crime Commissioner Martyn Underhill, who said he would be discussing the policing of knife crime in the next few weeks.
'My lost son'
"Nicholas was my shining light, he held the key to my heart, he was my comic, he was my handsome boy," Mrs Ormerod said.
"In April 2011 my life was shattered beyond repair, my life will never be the same again, and daily I cry for my lost son."
Turn Your Back will be tackling issues relating to youths carrying knives including peer pressure, bullying and feeling vulnerable.
Mrs Ormerod said: "We're hoping to do workshops in schools and youth clubs and hoping to get involved with sports activities, because if we can get kids to feel good about themselves they're not then walking the streets joining gangs."
A Turn Your Back video is already part of workshop material used at HM YOI Feltham.
Knife-related crime in Dorset has decreased over the past financial year, with 144 incidents reported in 2012-13 compared with 151 in 2011-12.
But Mrs Ormerod said there had still been numerous "worrying" stabbing incidents since her son's death.
A man was stabbed to death in Portland in December 2011.
In July 2012 a teenage boy with a fascination for knives stabbed his mother to death and was jailed for life.
And in February Ben Selby, 29, needed 50 stitches to his face after he was slashed from his eye to his chin at a nightclub in Bournemouth.
Mr Selby said he was "amazed" Turn Your Back was the first such charity in Dorset and has lent his support.
"You're not going to be able to stop everyone, but if you can stop a couple of people thinking 'actually I'm not going to put that [knife] in my pocket today', then your job is done".
Mr Underhill said he was "honoured" to be involved with Turn Your Back.
"Knife crime scars people for life emotionally and physically or, at worst, kills," he said.
"Dorset is a safe place to live but there are still people carrying and using knives across the county and we need to tackle that as a charity, as a force with partners, and as a community."
The launch took place during half time of AFC Bournemouth's game with Notts County on Saturday.