Train landmark for Swanage Railway heritage line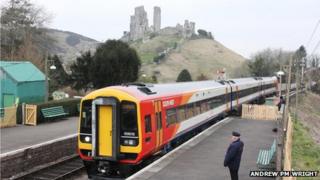 A modern passenger train has travelled on a Dorset heritage railway line for the first time in more than 40 years.
The SouthWest Trains diesel train travelled on the Swanage Railway to highlight work to reinstate the Swanage to Wareham passenger service.
The volunteer-run line recently won a £1.47m government Coastal Communities Fund grant to upgrade the track.
It closed in 1972 after the Beeching Report. Chairman Peter Sills described the new work as "Beeching in reverse".
Invited guests travelled on the train from Bournemouth on the main network, on to Wareham and Swanage.
Phil Dominey of SouthWest Trains said it was a "historic journey", coming 50 years after the Beeching report which led to the closure of many UK rail lines including services in Dorset.
The line was rebuilt as a steam railway tourist attraction in the 1980s and 90s.
The passenger service, connecting the line to the national rail network, is expected to begin in spring 2015. It is thought it could create up to 50 jobs in the area.