Parking ticket draw 'boosts trade' in Beaminster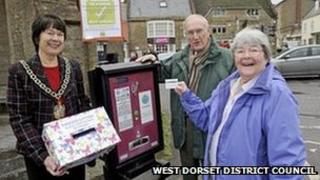 Traders in a Dorset town say what is thought to be the first parking ticket draw in the UK, has helped business.
The scheme allows shoppers in Beaminster to enter pay-and-display tickets into a draw for vouchers from local shops.
There were fears the closure of the Beaminster Tunnel since a landslip could damage trade in the town.
West Dorset District Council's Chris Graves said the weekly draw had helped increase car parking numbers.
Shop owner Richard Barker said: "It's a smashing scheme and should now help keep shoppers coming to Beaminster."
Rosemary Snell and Michael Rolfe, from Somerset, died when their car was buried at Beaminster Tunnel on the A3066 in July 2012.
The slopes at the side of the tunnel are being stabilised with 1,000 struts each measuring up to 12 metres (39ft).
In February Dorset County Council said the planned reopening date at the end of May had been put back by three to five weeks.