MP Annette Brooke to stand down at the next election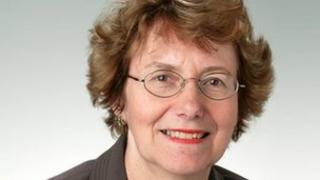 Dorset's only female MP Annette Brooke has announced she will stand down at the next General Election in May 2015.
The 65-year-old, who represents Mid Dorset and North Poole, said it was the right age to retire and she wants to spend more time with her family.
Elected in 2001, she received an OBE for public and political service in the 2013 New Years Honours list.
Liberal Democrat leader Nick Clegg said she would be "missed in the next Parliament as a friend and colleague".
Mrs Brooke said: "I've just had so much pleasure from the work I've been able to do.
"Throughout my career I've always known when it's time to move on and do something else.
'Last straw'
"Age has a lot to do with it, I shall be 68 [in 2015] and I think now is the time to retire."
She added her accident last year, when she fell on the pavement at Westminster and broke her hip, was "the last straw".
Mr Clegg, the deputy prime minister, said: "Annette has been a tireless campaigner, as committed to her community as she is to making sure that the strong tradition Liberal Democrat tradition in Mid Dorset and North Poole continues.
"She celebrated 25 years in public life in 2011 and was this year very deservedly awarded an OBE to recognise her hard work."
He added: "I know she won't stop campaigning on the issues she cares so passionately about."
Mrs Brooke denied her decision had anything to do with the recent troubled times for the party.
"I put my hand on heart, my decision to stand down has been in the back of my mind for a very long time."
She added she would continue to campaign on behalf of local charities.
The Liberal Democrats in Dorset are now in the process of choosing her successor.