Wimborne Community Theatre's online archive project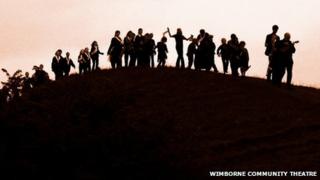 The archive history of a Dorset theatre group is to be made available online following a £10,700 grant from the Heritage Lottery Fund.
Wimborne Community Theatre plans to create an "interactive archive" of the people, places and stories from the group's performances.
Covering 1991 to 2011, the archive will include photographs of shows at various Dorset sites such as Hambledon Hill.
Dorset History Centre in Dorchester is assisting with the public project.
Organisers said they hoped the archive would be used by schools to "bring to life" Dorset tales told in past productions, including King Edward VII's visit to the Bankes family at Kingston Lacy in 1905, which was portrayed in the show Voyages.