Angelo Rodrigues stabbing: Neighbours jailed for murder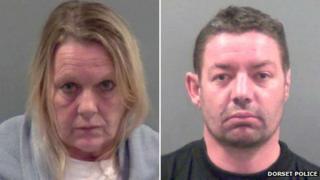 Two people convicted of murdering a "difficult" neighbour in a dispute over noise have been jailed for life.
Angelo Rodrigues, 44, died after being stabbed 25 times with a scissor blade.
Tracy Mansell, 56, was sentenced to a minimum of 16 years after a jury at Winchester Crown Court found her guilty of stabbing Mr Rodrigues to death.
James Kinsley, 40, was jailed for at least 14 years for his part in the murder at Mr Rodrigues' home in Coleman Road, Kinson, Bournemouth, on 27 July.
The jury found Kinsley and Mansell, who were partners, guilty of murder in a unanimous verdict following an 11-day trial.
'Frenzied attack'
Mr Justice Stephen Males, sentencing, said evidence during the trial showed Mr Rodrigues was a "difficult and disturbed neighbour".
He drank heavily, took drugs and his anti-social behaviour included swearing and shouting abuse.
Mr Rodrigues threw furniture from his balcony into the garden of the flat below, where Mansell lived.
The court heard Mansell had a condition described as an emotionally unstable personality disorder.
On the night of Mr Rodrigues' death, Mansell had been drinking heavily and flew into a rage, saying she was fed up with the noise from Mr Rodrigues' flat.
She ran up the stairs brandishing a scissor blade and a row erupted.
Kinsley went upstairs, where Mr Rodrigues hit him on the back with a cable bike lock.
Mr Justice Males said: "James Kinsley and Tracy Mansell pushed Angelo Rodrigues backwards through his hallway and into his bedroom and got him down on the bed.
"James Kinsley sat astride him, punching his face repeatedly and pinning his arms so that he couldn't defend himself while Tracy Mansell stabbed him in what must have been a frenzied attack.
"She inflicted a total of 25 injuries with a scissor blade."
Speaking after the sentencing, Mr Rodrigues' brother Fernando, from Trowbridge, Wiltshire, said: "It was a barbaric attack. I had to identify the body. I cried, I was in shock.
"They went for Angelo - he had no chance.
"Justice has been done. I'm really glad.
"It's been a long, hard two weeks. Both defendants tried to get away with it.
"The defendants are entitled to a defence, but they failed."