Sick man taken off tallship Lord Nelson in south Atlantic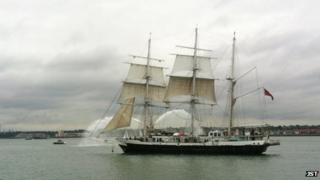 A sick British man has been evacuated from ship on a round-the-world voyage.
The 21-year-old, suffering with a pre-existing condition, was taken off the Lord Nelson in the south Atlantic at about 18:30 GMT on Wednesday.
He was taken by boat to the remote volcanic islands of Tristan da Cunha.
The Lord Nelson set sail from Southampton on 21 October carrying a mixture of disabled and able-bodied people on a 50,000-mile (80,000km) trip.
Doctors on board the tallship had been giving treatment, but Captain Chris Phillips decided to send the crew member ashore after taking advice from the ship's operations team in Southampton.
The man is currently receiving treatment on Tristan da Cunha, and is expected to be transferred to Cape Town - where the ship should arrive on 2 February - when medical staff deem him fit to travel.