Royal Bournemouth Hospital bed blocking cancels operations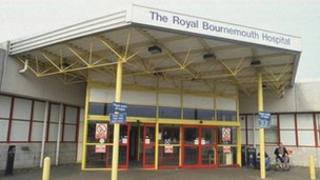 Operations are being cancelled at a Dorset hospital because of bed blocking, its chief has said.
Up to 15 operations have been cancelled per week at Royal Bournemouth Hospital since autumn 2012, due to a shortage of beds.
Tony Spotswood, chief executive of Royal Bournemouth and Christchurch Hospitals Trust, also said there was a "constant rise" in emergency patients.
He added more than 1,500 operations had been carried out per week.
Mr Spotswood said he wanted to reassure patients and added those who have had their operations cancelled have been given renewed dates.
He said a "key task" of the trust was to move patients who no longer required acute medical care out of hospital quicker.
Proposed merger
GPs have been brought into the hospital to care for patients "who would otherwise be in nursing or residential care homes," he added.
He said more beds needed to be opened to a "wider range" of patients in care homes.
Helen Lingham, the hospital's chief operating officer, said the current situation at the hospital was "not sustainable".
If it continues she said there would be a "significant risk" at the hospital, with more cancellations of planned procedures, a "lack of timely care" for emergency patients and an impact on "maintaining efficient and robust NHS services".
A two-day meeting with GPs, directors of adults and social care and the trust has been planned for next month to find a long-term solution, she added.
Royal Bournemouth and Christchurch Hospitals NHS foundation plans to merge services with Poole Hospital.
The Office of Fair Trading (OFT) had referred the proposed deal to the Competition Commission amid concerns about allowing two competing trusts to combine.
Speaking in the Lords earlier this month, Labour's Lord Hunt said the watchdog investigation should be stopped because it sent out the wrong message to the NHS.