Dorset road deaths on rise after traffic officers reduced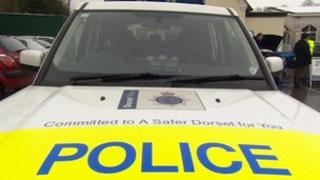 Dorset Police insists it is committed to tackling road safety despite reductions in its number of road traffic officers.
The number of people killed or seriously injured on the county's roads went up by 15% last year.
In the same period, the number of full-time Dorset Police traffic officers has fallen by 12 from 46 to 34.
The force is actively recruiting more special constables and developing its community speedwatch initiative.
In 2012, 380 people were killed or seriously injured on Dorset's roads, 51 more than the year before.
In the previous four years, the numbers had fallen from 451 in 2007 to 329 in 2011.
'More innovative'
Assistant Chief Constable James Vaughan pointed to the government's Comprehensive Spending Review for the cuts in officer numbers.
He said: "Traffic enforcement resources have unavoidably reduced over recent times.
"This does not mean Dorset Police, or any of our partners, are any less committed to tackling the road safety issue.
"We are very motivated to find more efficient and innovative ways to achieve the same outcomes."
One method is through the force's No Excuse campaign where police officers work on their days off and are paid overtime.
The campaign is funded by money from speed awareness courses drivers attend when they are offered an alternative punishment to points on their driving licence.
Safety camera enforcement is combined with hard-hitting publicity and education.
Dorset Police has had a recruitment freeze since 2010 and the force is actively trying to avoid compulsory redundancies.
The force is also considering amalgamating some services, such as marine policing, with Hampshire Constabulary and Devon and Cornwall Police.