Dorset snow: more flurries and icy patches predicted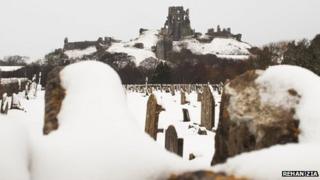 Motorists were warned they could face continued disruptions in Dorset on Tuesday with icy conditions and more snow predicted over high inland ground.
The Met Office issued a yellow warning of ice after a cold night with rain spreading from the west.
But forecasters said it could fall as sleet or snow further east and warned of more icy conditions.
Meanwhile South West Trains announced that it planned to restore its usual weekday timetable on Tuesday.
But it said some services could be subject to alterations and have fewer coaches than normal.
Passengers were advised to check for updates before travelling.
Andrew Martin, head of Dorset Highways Operations, said: "We are in regular contact with the Met Office and will deploy our gritting crews in advance of any snow falls.
"The forecast is not as clear cut as it was for Friday last week, but whatever happens our crews will be ready.
Dozens of schools closed on Friday amid heavy snowfall.
Bournemouth International Airport said it remained open for business.