Dorset snow: Icy conditions spark travel warning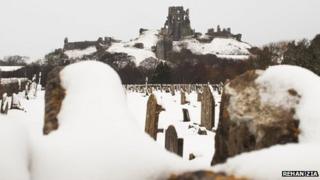 More disruption to road and rail networks was likely in Dorset on Monday as freezing temperatures continue to blight the county.
The Met Office has issued a yellow warning of ice after a cold night with a widespread hard frost. Light snow has been forecast later.
Only St Mary's Middle School in Puddletown remained closed.
Commuters can expect more disruption with South West Trains again operating a revised timetable.
'Doing everything possible'
The firm said ice can form on the power line which could cause trains to stop.
It said extra trains would be added during the day if possible.
Gritting crews have been working round the clock while farmers with snow ploughs have helped clear roads.
Bert Bishop, who has been driving a gritting lorry around the Studland area, said: "The lorries have been out doing 24 hour shifts.
"It's two shifts of 12 hours at a time, I was on midday Friday to midnight.
"There's been a fair bit of salt put down in the last few days.
"People need to go carefully in the mornings, it's slippery and icy."
Dozens of schools closed on Friday amid heavy snowfall.
Bournemouth International Airport said it remained open for business.