Dorset snow: Ice warnings continue following snowfall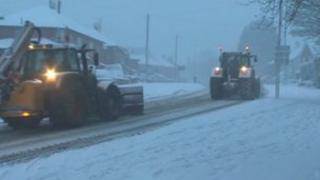 Drivers continue to face difficult conditions on Dorset's roads over the weekend following heavy snowfall.
People have been urged to avoid non-essential travel and South West Trains is running revised routes throughout Saturday.
Dorset police has warned drivers to beware of slush and ice on the roads.
Forecasters say the snow is likely to ease over the weekend but it will continue to feel cold with a raw easterly wind.
BBC reporter Steve Humphrey described Shaftesbury as being "like a ski resort" with many people taking Friday off work.
"There is a big concern over the icy conditions into the weekend.
"Many of the major routes are passable with care but the minor country roads are impossible without a four-wheel drive vehicle," he said.
First baby
Sinead Mellor from Swanage was not able to get to Poole Maternity Hospital because of closed roads on Friday morning
Instead, she and husband Martin diverted to Swanage Community Hospital where baby Kyran was delivered in the minor injuries unit.
It is believed to be the first baby to be delivered at the hospital in over 30 years. Mum and baby are doing well.
Meanwhile about 100 properties in West Moors were without electricity on Friday afternoon due to fallen power lines and more than 200 schools were shut.
Ch Insp Nicky Searle said: "We've been planning for the snow for the last two to three days, so so far we're coping well.
"We would ask that members of the public that do need to travel do so with absolute care and put shovels, blankets and hot drinks in the car."
Bournemouth International Airport said it remained open for business with workers clearing the runway of snow.
The council said it had brought in 2,000 extra tonnes of salt to cope with the wintry conditions forecast.
A Dorset County Council spokesman said gritting teams were treating the "priority network" for sub-zero temperatures.
"Motorists should take extreme care when travelling, keeping their speed down and maintaining a sufficient distance from the vehicle in front to be able to brake and stop safely. It can take 10 times longer to stop in icy conditions."