Two men arrested over Dorset armed robberies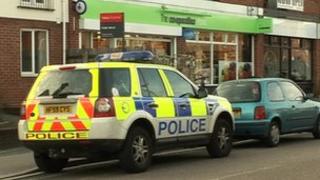 Officers investigating three armed robberies in east Dorset have arrested two men.
Dorset Police said the men, aged 37 and 49, were being questioned in connection with a robbery at a post office in Highcliffe in December.
They were also being held in connection with raids at Saulfland Stores in Christchurch and Co-op in Southbourne on Saturday and Sunday.
One is from Bournemouth and the other has no fixed address, police said.
The Co-op supermarket on Cranleigh Road in Southbourne, near Bournemouth, was targeted on Saturday evening.
A raid also took place on Sunday evening at Saulfland Stores in Saulfland Place, Christchurch.
A man wearing dark clothing, a baseball cap and a scarf pulled up over his nose threatened staff with a handgun during both incidents, police said.
On Tuesday 18 December a man robbed the post office in Lymington Road, Highcliffe, at gunpoint.