Christchurch and Bournemouth robber threatens staff with gun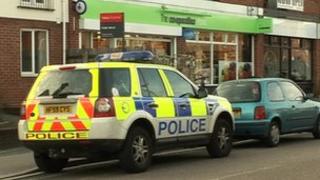 Two armed robberies were carried out in Dorset over the weekend.
Co-op supermarket on Cranleigh Road in Southbourne, near Bournemouth was targeted on Saturday evening.
A raid also took place on Sunday evening at Saulfland Stores in Saulfland Place, Christchurch.
A man wearing dark clothing, a baseball cap and a scarf pulled up over his nose threatened staff with a handgun during both incidents, although police said there was no link "at this time".
Gunpoint kidnapping
Officers said they were "keeping an open mind" as to whether the armed robberies in Christchurch and Southbourne were linked to recent raids in the area, including an attempted armed robbery at the Morrison's car park in Verwood on 5 January.
There was also an armed robbery at a post office in Highcliffe on 18 December, and two armed robberies and a kidnapping in Hampshire.
A robber held a man at gunpoint at Brockenhurst railway station on 5 December.
And on 14 December, police believe the same man drove a woman around Lymington at gunpoint after raiding her home.
Police also said they were "keeping an open mind" as to whether the Highcliffe robbery was linked to the Lymington and Brockenhurst incidents.