Dorset midnight street light switch-off to continue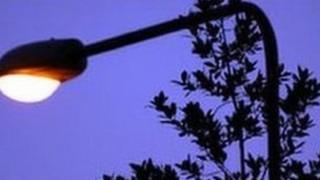 Streetlights across the whole of Dorset will be switched off at night, despite some residents saying it makes them feel unsafe.
Dorset County Council estimates it will save it £150,000 and reduce carbon emissions to have the lights switched off between midnight and 05:30 GMT.
A permanent switch-off is being rolled out following a trial last year.
Some night shift workers, who have to walk to and from work in the dark, say they feel frightened.
The council says all lighting in essential and high use areas, such as those covered by CCTV and in high crime areas, town centres or high speed roads will stay.
But it will be turned off in residential roads and areas deemed "not essential".
Cut to face
Dorota Sandrovic works at a pub in Shaftesbury, which was part of the trial, and has to walk home after midnight.
Last week she was left with a cut under her eye after tripping and hitting her head on a fence.
She said: "It's black, you cannot see anything.
"While I was walking I could hear a person, but could not see the person. I could hear he was drunk, shouting, so I got scared and tried to walk faster.
"I tripped because I could not see anything.
"I'm scared now to walk home, especially after work that late because it's really dark."
Rose Twogood and Justine Laurence both work at a 24-hour laundry business in Shaftesbury.
"It's not very good, especially this time of year when we're having to walk to work in the dark, complete darkness," Ms Twogood said.
Ms Laurence said: "I feel a bit scared to be honest. You're sort of watching over your shoulder making sure everything's ok."
Traffic worries
Janet Dover, Lib Dem county councillor for Colehill, where all streetlights are being switched off in the next few days, says she is worried about traffic calming measures being unlit.
She said: "It's just unacceptable. There are build-outs into the road.
"The county council policy says that if they are humps they will be lit, but they're saying build-outs aren't the same as humps.
"I'm saying that they're hair-splitting and that they should reconsider the policy itself, make changes to the policy."
But Peter Finney, Conservative county councillor and portfolio holder for transport, said: "It's a policy we've had in place now for some considerable time.
"It's worked perfectly well in those areas where we've switched the lights off and we haven't had any issues with extra vehicles crashing.
"At that time of the night, there's very, very little traffic."
Mr Finney said he sympathised with Ms Sandrovic.
"It must have been very frightening.
"We consult with the local police force and if the police believe that the lights should go back on because there's a risk of crime, then we will do that."