Boy with cerebral palsy gets Royal Bournemouth Hospital payout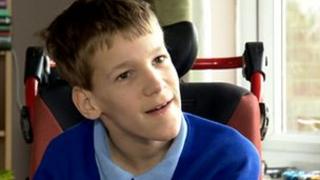 The mother of a 14-year-old boy with cerebral palsy has won a £7.1m payout from the Royal Bournemouth Hospital.
Clare Scott's son Charlie was diagnosed with spastic quadriplegic hemiplegic atheloid cerebral palsy after being brain damaged at birth.
She said the compensation would provide Charlie with security of care.
The Royal Bournemouth and Christchurch Hospitals NHS Trust admitted Ms Scott's treatment during her labour "fell below an acceptable standard".
Ms Scott said staff did not notice Charlie's umbilical cord was wrapped round his shoulders and squashed completely for about 20 minutes during her labour, depriving his brain of oxygen.
She said as a consequence he "struggles every day" with muscle spasms and is not able to walk, talk or fully feed himself.
'Loves life'
Paula Shobbrook, director of nursing and midwifery, said: "We apologise sincerely to Charles and his family for the level of care they received.
"Had an appropriate standard of care been provided, Charles' brain injury would have been avoided."
Charlie's mother first enquired about starting legal proceedings against the hospital when he was nine months old. The hospital admitted it was at fault in 2010 after the exact cause of the brain damage was established.
Ms Scott said: "I will always feel angry his so-called 'normal' life has been taken away, but he is such a happy boy and so intelligent. He loves life and lives it as fully as he possibly can."
She said the compensation would provide equipment for Charlie's physical and communication needs and he would no longer have to wait for assessments by social services.
"It will make his life a lot easier and I know in the future when I'm not able to look after him I'll be able to put care in place for him."