Poole Sailability charity hit by second theft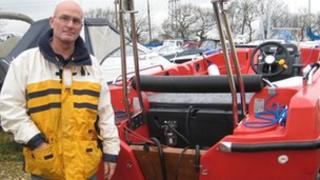 Thieves have targeted a charity helping disabled people to sail, for a second time in 18 months.
The engine from Poole Sailability's safety boat was stolen in a "highly organised theft" overnight on Sunday.
The Dorset charity said the culprits cut through a wire fence at Rockley Boat Park and also stole a number of engines from private boats.
In 2011, the charity's safety boat was stolen and later found wrecked on rocks with its engine cut out.
Anna Moreland, chair of Poole Sailability, said: "We are devastated by this latest theft and are working with police and our insurers.
"Last time this happened there was a huge shortfall in the insurance payment to replace the boat and engine.
"The local community stepped forward with donations to help us raise this extra money. I do not know what will happen this time."
The charity cannot run sailing sessions without the use of a safety boat.
Dorset Police appealed to any witnesses of the theft, which happened between 17:30 on Sunday and 09:00 GMT on Monday.