Puddletown first Dorset library to transfer to volunteers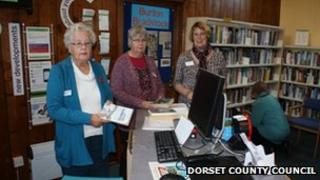 A Dorset village library, originally earmarked for closure, has been taken over by volunteers.
Puddletown Library is the first of seven facilities to transfer to community ownership.
Conservative-led Dorset County Council cut funding for nine of the county's 34 libraries in 2011 in a bid to save the authority £725,000
Former BBC chief news correspondent and Dorset resident Kate Adie helped with the official opening earlier.
'Local leadership'
Puddletown Library will be open four days a week, as it is now, staffed by a team of 28 unpaid volunteers.
Volunteer, Roy Bennet, a retired clergyman, said: "We've had plenty of training and we're ready to go - we're looking forward to the challenge."
Dates have also been agreed for the transfer of Chickerell, Wool, Colehill and Stalbridge libraries.
The libraries will be independent and self-governed, but supported with books and IT services from Dorset County Council in a deal worth £5,500 a year for each site.
Funds for rent, lighting, heating and insurance have to be raised by the volunteers.