Hengistbury Head visitor centre built with straw walls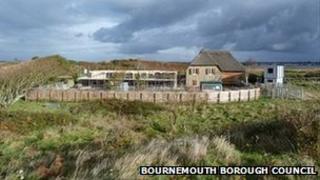 A new £1m visitor centre at a Dorset coastal nature reserve is being built with a grass roof and straw walls.
Work has begun on an extension to the thatched barn at Hengistbury Head, near Christchuch, which is being built to minimise energy bills as well as its impact on the environment.
Bournemouth Borough Council said solar panels on the building would save about £1,000 a year on electricity.
The centre is due to open in the summer of 2013.
The centre is being funded with £300,000 from developer contributions, £432,000 from the Heritage Lottery Fund and £300,000 from landfill tax.
It will house an exhibition about the pre-history of Bournemouth, an area for education and community use, work space, toilets and a shop.
As well as the solar panels, the energy-saving features include a green roof to absorb rainfall and provide insulation and timber-framed walls insulated with straw bales.
The work area in the centre will also provide space for community groups such as the Hengistbury Head Supporters Group, Hengistbury Residents' Association and Christchurch Harbour Ornithological Group.
Hengistbury Head, to the east of Bournemouth, forms part of Christchurch Harbour and incorporates prehistoric earth works and evidence of human occupation dating back to 10,500 BC.