Dorset 'lightning strike' school to stay shut for new term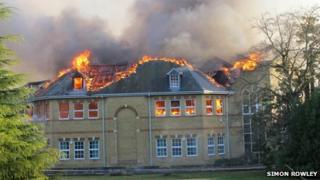 A school will stay shut for the first two days of the new term after it was devastated by a fire thought to have been caused by a lightning strike.
It was the second time in 12 years Lytchett Minster Upper School in Dorset has been affected by fire with the latest incident on Thursday morning.
Examination coursework was destroyed in the arts and theatre block.
The school, which hopes to reopen fully by mid-January, has called for a sympathetic approach from exam boards.
Senior staff said they had good records of the work and believed pupils could still be marked.
The block has been completely destroyed with contractors set to assess the damage.
'Battle back'
The school is hoping to open on 9 January for students taking exams, with the rest of those at the 1,330-pupil school returning by the end of that week.
David Ruston, deputy head teacher, said: "It is obviously heartbreaking. But this school was described by Ofsted as outstanding before the fire, and we're determined to be outstanding again.
"Some coursework has been lost, but the school has a very good computer system which means some of it has been saved on the servers.
"We are determined to battle back from this."
The school was only recently fully reopened after a £12m rebuild following a fire in 2000.
Thursday's fire was one of three believed to have been started by lightning in Dorset.
A derelict hotel in the Boscombe region of Bournemouth and a barn fire near Shaftesbury in which 20 sheep died are also being investigated.