Lottery fund awarded for Thomas Hardy visitor centre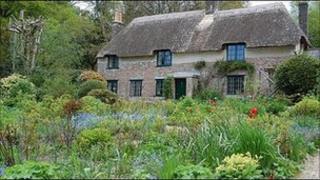 A new visitor centre is set to be built at the Dorset birthplace of author and poet Thomas Hardy, after the project won lottery funding.
The centre and education trails will be built in the 26 hectares (64 acres) of Thorncombe Wood, which surrounds the writer's cottage in Higher Bockhampton.
Heritage Lottery Fund awarded £495,000 to the the joint Dorset County Council and National Trust project.
Work is planned to start in September with the centre opening by Easter 2014.
It will feature a learning space for school and community groups.
Richard Bellamy, of the Heritage Lottery Fund South West, said: "This project will help people to better understand how his Dorset roots influenced his achievements."
The secluded cottage and surrounding land is where Hardy drew inspiration from and wrote his 1874 novel Far from the Madding Crowd.