The Brownsea Island water postman who always delivers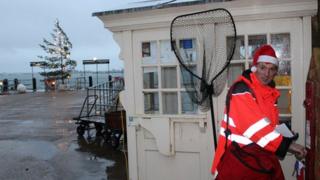 Come rain or shine, water postman Sheridan Bartlett catches the boat across Poole Harbour to the island of Brownsea where he delivers mail to around a dozen houses.
As wind lashed the Dorset coast, the Royal Mail postman was out and about on his regular delivery sporting a Santa hat.
Only once this year has the 37-year-old from Bournemouth failed to deliver to the 500-acre Dorset island.
'Jolly soul'
"It was incredibly blowy that day and the waves were coming right up over the boat and the service was cancelled," he said.
"It was pretty rocky today - but I've known it to be worse.
"It's not great in this weather and at this time of year it's still dark.
"I don't think a lot of postmen like delivering to Brownsea but I quite like it because you can leave the office early and get out of the boss's hair."
Mr Bartlett said he has got to know most of the people on Brownsea over the past two years.
The majority of the island is owned by the National Trust and most of those who live there work for the organisation.
The small boat the postman catches each morning, from Sandbanks in Dorset, is owned by the trust.
No other public vessels cross over to the island in the winter, he said.
The father of one said: "I think the people living on the island do appreciate the service because they realise that there's no other islands in the area where we deliver. I have a laugh with some of them.
"People on some of the other islands have to go to the mainland to pick up their mail because the islands are privately owned.
"I will be delivering up to and including Christmas Eve."
A Royal Mail spokesman said: "It's certainly an unusual delivery but actually it's the sort of delivery that is reflected all around the UK.
"Mr Bartlett is quite a jolly soul. What he does shows that Royal Mail is really part of Christmas and we deliver anywhere in the UK - no matter how remote."