Portland coastguard helicopter base closure 'illogical'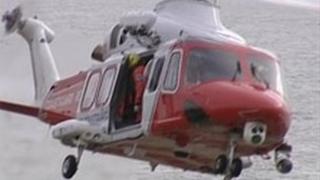 South Dorset's MP Richard Drax has told the House of Commons the decision to close Portland's coastguard helicopter base is "illogical".
The government plans to close the search and rescue base in 2018.
In Wednesday's adjournment debate, Mr Drax said flight times and cost figures used to justify the move were wrong.
The Department for Transport (DfT) said modern helicopters operating from fewer bases could provide a more reliable service that met key requirements.
Mr Drax said the £9m annual cost of the base quoted by the DfT was incorrect. He said that because the base operates 12 hours a day and not 24, its costs are between £4m and £5m.
Mr Drax also pointed out the flight times used to assess how long the Lee-on-the-Solent helicopter would take to get to incidents failed to include the 15 minutes needed for the aircraft to take off.
He said: "Something is seriously wrong, and I urge ministers to look at the modelling, which I believe is fatally flawed. Someone somewhere has got their maths wrong."
Responding on behalf of the Under-Secretary of State for Transport Stephen Hammond, Norman Baker MP told Mr Drax the increased capability of new aircraft would allow the number of bases to be cut from 12 to 10.
Mr Drax has also launched an e-petition against the closure which has so far collected about 13,000 signatures.