Dorset PCC Martyn Underhill to fight spending cuts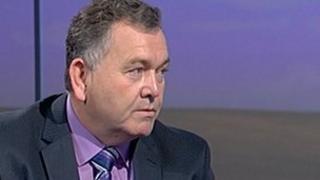 Dorset's police and crime commissioner (PCC) has said more cuts to the force budget could put public safety at risk.
Martyn Underhill said it already faced having to save £10m and he was writing to the chancellor to say "enough's enough".
He was reacting to George Osborne's autumn statement which contained suggestions of a further 2% cut and future spending review cuts of 5%-10%.
The PCC said Dorset Police was "already stripped to the bone".
Recruitment freeze
Dorset Police is reviewing a number of functions in order to meet the additional £10m savings required by March 2015.
In places where police stations are closing, the force may have a presence at a local council building, such as in Swanage.
There has been a recruitment freeze since 2010 and the force says it is trying to avoid compulsory redundancies.
Dorset Police is also considering amalgamating some services, such as marine policing, with the Hampshire and Devon and Cornwall forces.
Mr Underhill, a former detective, said: "The focus must remain to continue to protect frontline services, while minimising waste.
"It is true to say that frontline services may look a little different, but provided the public remain at the heart of policing in Dorset we can ensure good service is continued."