Weymouth's harbour repair work begins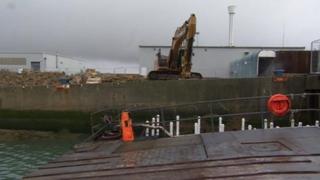 Work has begun on a £4m scheme to repair a harbour in Dorset.
Contractors are rebuilding a ferry berth in Weymouth where deep cracks beneath the waterline have led to parts of the harbour wall collapsing.
Condor Ferries, which sails from Dorset to the Channel Islands, is currently leaving from Poole because the Weymouth berth is out of action.
The 80-year-old berth was declared unsafe in February and remedial works proved unsuccessful.
The work is expected to be completed by June 2013, with the ferry company hoping to move back the following month.
The instability is thought to have be down to a phenomenon called scour, caused by natural processes such as tides, currents and changes in the seabed, as well as by boats and other harbour uses.