Dorset PCC Martyn Underhill 'surprised' at complaints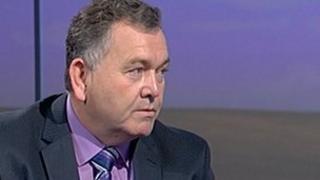 Dorset's police and crime commissioner (PCC) said he was "surprised" by the number of complaints he has received in the first two weeks of the job.
Martin Underhill said he is receiving about 300 messages a day - the same amount the old police authority, which was replaced by the PCC, got in a year.
He said many contacts were messages of support and offers of help.
However, there were also a number of complaints, including requests to re-examine historical allegations.
The new PCCs, which replace police authorities, will set spending plans and have the power to "hire and fire" chief constables.
'Dip-check'
Mr Underhill, who won the election as an independent candidate, said: "The complaints are a worry, I've got to be honest.
"I always thought we would get complaints come to us but the volume is surprising."
He attending a national summit for the role with the Home Secretary Theresa May and the other PCCs earlier this week.
He said they shared his shock at the number of complaints coming into offices nationwide.
He added Anne Owers, head of the Independent Police Complaints Commission, recommended a "dip-check" system, in which sampling is carried out to ensure standards, which he is setting up.
Since taking over the new role, Mr Underhill said he would restart recruitment of volunteer Special Constables to increase the visibility of the force.
The former detective, who was part of the Sarah Payne inquiry, has also said he would press ahead with setting up community and victims' forums for the public to raise issues over policing.