Crewmen airlifted from oil tanker off Weymouth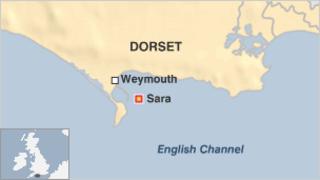 Two crew members have been airlifted from an oil tanker off the Dorset coast after being injured on board.
Portland Coastguard said it received a call to the Maltese-registered tanker, Sara, at about 12:30 GMT after two men were hit by a swinging boom.
The men were treated on board before being winched on to the Portland coastguard helicopter.
They are described as "walking wounded" and will stay overnight in Dorset County Hospital for observation.