Dorset pub owner visits Chinese 'copy' in Shanghai's Thames Town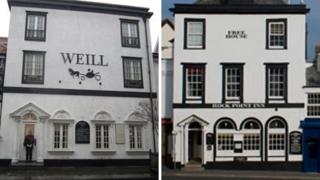 They say imitation is the sincerest form of flattery.
But for Gail Caddy the question as to why apparent copies of the shop fronts of her pub and adjoining chip shop popped up in China has intrigued her for six years.
Thames Town was one of 11 new urban areas built near Shanghai and is partially based on several English towns including areas of Bristol and Birmingham.
It has green squares, red brick buildings and even a statue of Sir Winston Churchill.
'Ghost town'
Ms Caddy, who was never asked for permission, always wondered why her small businesses in Lyme Regis were chosen over more iconic English alternatives.
So when her son got a job in Hong Kong she had the perfect reason to take a trip to see the "carbon copy" for herself.
But when she arrived last week it seemed the Chinese had struggled to find a market for the buildings in their original form.
"I got there and they had been turned into a women's dress shop. I was a bit miffed," Ms Caddy told BBC News.
"It was unfortunate after coming so far, but you could still see the sign for the Cobb fish bar on the outside."
She was told when the development opened the "fish bar" was actually a chicken fast food restaurant while the pub had remained unfilled.
Ms Caddy has no idea when the units were converted into a Weill store - a French boutique clothes chain.
She said: "They had to find a tenant as the pub was empty so it looks like they got a dress shop in there.
Niche market
"Because I had some publicity [when the development opened six years ago], whether they felt embarrassed and decided to take off the signs, who knows.
"I was flattered, even though they had not asked me."
The English imitation has proved popular with Chinese newlyweds posing in front of mock-Tudor buildings and red phone boxes.
But it seems the idea has failed to catch on with other visitors, leading to it being described as a "ghost town" with "empty shops and unused roads" in an article by the Business Insider last year.
Engineering firm Atkins was involved in the original concept and said the project was driven by clients looking to "differentiate" their products to target a niche market.
But despite some views that the project has failed, another mock English town is being planned near Beijing.
Ms Caddy has since returned home with a sense of disappointment but safe in the knowledge her pub and chip shop are once again one-offs.