Weymouth Pavilion: Theatre future to go to consultation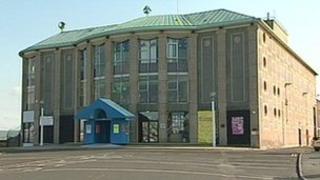 Dorset councillors have voted to put the future of a seaside pavilion out to public consultation.
Weymouth Pavilion has been recommended for demolition, but will remain open while its future is considered.
The public consultation will take place ahead of a full council meeting in February.
No date has been announced for the pavilion's closure with the chance still available for someone to step in and run it.
Weymouth & Portland Borough Council's management committee met earlier to discuss the authority's future spending plans.
The council is looking to reduce expenditure by £3.9m by 2019/20 through a range of budget proposals.
'Needs TLC'
Councillor Ray Banham believes the pavilion has another 11 or 12 months before its inevitable closure.
He said: "A suggestion was to close it in March, but there are already shows and weddings booked beyond that and the council could quite easily be sued.
"A pavilion steering group has worked very hard to try and secure its future and maybe an alternative venue is needed. A 700-seat theatre would suit the town and its entertainment needs."
Chairman of the Friends of Weymouth Pavilion Cathy Page-Nash added: "It's the only entertainment venue in the area and to lose it would be terrible.
"It certainly needs some TLC, but the council has let it go for many years without maintaining it."
The council recently revealed maintenance work to ensure the building's safety would cost more than £3m over 10 years.
Cabinet member for finance and assets, councillor Peter Chapman, said: "It's clear the council simply cannot continue to subsidise the pavilion as the situation stands.
"We will look into options for private or voluntary groups to take it on and assist with all the detailed financial analysis.
"If this does not happen, then the option going forward is to close the complex."