Charmouth coastline cordoned off over cliff crack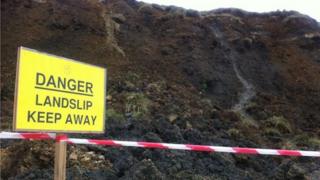 A section of coastline in Dorset has been cordoned off after a crack was seen in a cliff.
Coastguards called to Charmouth on Wednesday put up warning signs and Dorset County Council is considering if further action is needed.
In August five people were unhurt after a landslip between Charmouth and Golden Cap.
Ten miles along the coast, holidaymaker Charlotte Blackman died in a landslide at Burton Bradstock in July.
Experts said heavy rain had been a factor in the Burton Bradstock landslip.