Kyle Rees hockey ball death 'tragic accident'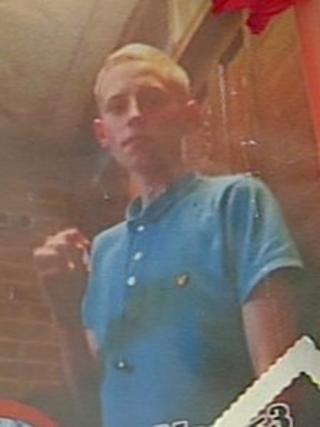 The death of a 16-year-old schoolboy struck by an indoor hockey ball thrown by a friend was a "tragic accident", an inquest jury has decided.
Kyle Rees was struck on the head in the playground of Portchester School in Bournemouth, Dorset, on 27 February. He died a day later from head injuries.
A narrative verdict from the inquest in Bournemouth said: "The friend did not intend to harm Kyle or anybody."
Kyle's mother said she felt she had been failed.
During the inquest teacher Benjamin Smith said a group of boys had been in the playground throwing tennis balls.
While he was watching from his classroom window a pupil picked up an indoor hockey practice ball and threw it, he said.
The teacher said the boy who threw the ball did not intend to hit anyone but Kyle moved into the ball's path suddenly and it caught his head.
'Didn't make sense'
Following the hearing, Kyle's mother, Tanya Cooper, said: "We all have a duty to love and care and protect our children. I sent my son to school - as is the law - to be cared for but he never came home to us.
"As a parent I feel I have failed and been failed and from what I have heard during this inquest, clearly I feel the school has failed."
Ms Cooper thanked everyone who had supported her family, including Kyle's friends and the medical staff involved in his care.
When asked how she felt about the verdict she said it "didn't make much sense" and the school "should be made to look after the children to the best of their ability".
"With the amount of balls and the amount of children playing in the playground beforehand, something should have been done beforehand," she said.
'Awful tragic event'
She said she did not blame the boy who threw the ball in any way, and added: "He has to live with this forever and I don't know which of us is suffering more to be honest so my heart goes out to him and all of his family."
Debbie Godfrey-Phaure, the executive headteacher of Avonbourne Trust, which runs the school - now called Harewood College - said: "The school takes its duty of care towards our children very seriously and always will.
"This was an awful tragic event and I want to reassure Kyle's mum and dad that staff who personally knew him were with him all the time.
"No one ever left his side right up to when he was taken into hospital and his mum could be there. We were there talking to him and holding his hand."